…if you can't get the sum of the parts to be greater than the cost you're going to fail and I think a large part of that 84 percent that fail it's because they're not prepared to change behavior. They think they can have strategy and technology and it just doesn't get them there fast enough or in a good enough way.
— Michael Gale
Forbes Magazine,
"Why 84% Of Companies Fail At Digital Transformation"
Digital Transformation is growing is priority for most businesses, small and large. Virtually every company in the Forbes Global 2000 company list is on some sort of journey towards evolving their workplace in response to changes  in the way people interact with technology. While a few of these companies are reaping the rewards of embracing a growth mindset towards technology, many are struggling to make it happen or simply not seeing any benefits.
According to Michael Gale, a digital transformation expert, "Some are getting it right and others struggle.  Basically, one in eight got it right and then there were ranges of failure where more than 50 percent just didn't go right at all."
Part of the problem, though, is that it takes more than shoe-horning new technology onto old models and processes to create a successful digital transition. To find the right solution requires companies to dig deep into not just the "how" but the "why" they do things. Rather than trying to find the answers, businesses need to make sure they are asking the right questions first. That's where Design Thinking comes in.
Why Digital Transformations Flounder or Fail
A staggering 84% of digital transformation projects fail, according to Michael Glaze who has been studying the topic for several years. According to a HarveyNash/KPMG survey, only 18% of CIOs said that their Digital Transformations were "very effective." A less than 1 in 5 success rate would not lead to much enthusiasm or confidence if you are considering such a project.
SOURCE: Harvey Nash/KPMG CIO Survey 2017, Navigating Uncertainty, Pg. 26
The exact cause of each failure is unique, but the reasons at the heart of all of these failures is lack of awareness of the challenges to be faced and the inability to shift focus as new challenges present themselves.This happens because many organizations still not only use, but think in terms of a long term waterfall methodology, where solutions are created early on and expected to be executed despite changing realities during the design and development.
This not only invariably leads to the dreaded scope creep, where timelines and budgets are crushed, it also means that as new research, and new information becomes available, it is often too late to integrate that knowledge into the final solution.
How Projects Succeed
Although there are a lot of factors that can cause projects as large and complicated as a Digital Transformation initiative to fail, there are several best practices we can bring to bear. These do not necessarily remove the problems, but will help to recognize and recover from them more quickly.
Clearly define audience needs and what success will look like for them. It's easy to believe that you understand your target audience and what they are looking for. You don't. Even if you are a part of that target audience, you are likely only one of many. It's important to get out and talk to them whenever and wherever they will be using the solutions you are trying to create.

Clearly define what success looks like to the business and what is the value. All too often directions are given from high levels in the company without a full understanding of what is being asked. Try to work with the decision makers to understand what they think the optimal outcome for the project is and what value they hope to derive, and educate them on the realities of what they are asking for.

Clearly define the technologies to be deployed. It is important to not let the technology dictate solutions, however, it is a reality that it does direct what is possible. It is vital that all parties including designers) understand the limitations and strengths of whatever technologies will be used.

Make audience involvement and testing a part of the process, not an afterthought. Although this might sound like a rehashing  of tip #1, we often forget about the people we're actually creating for. It's important to constantly get reality checks from your audience to make sure you are headed in the right direction.

Design & Development in Steps. As mentioned, waterfall just doesn't cut it anymore. Instead, both development and design must create in iterative steps, allowing them to bring in new insights and information to the solutions as they work.
This last tip is crucial. For developers the iterative step-by-step method is the Agile process using development sprints. Designers have, by and large, been reluctant to enter into a sprint based process, although iteration is a cornerstone of design.
Over the last few years designers have been increasingly embracing the concept of Design Thinking along with the even more recent concept of design sprints. Although still gaining support, success stories of a proper Design Thinking approach are winning converts.
Enter Design Thinking
Design thinking, to be reductively simple, means "thinking like a designer" in order to develop solutions. According to Thomas Lockwood in his introduction to Design Thinking: Integrating Innovation, Customer Experience, and Brand Value, the value in design thinking is that: "By thinking like designers—being able to see the details as well as zoom out to the big picture—we can really add value by challenging the status quo."
Design Thinking reverses the way many people approach problem solving, allowing them to discover more innovative solutions than they might normally come to. Rather than starting with requirements and features and finding a solution, we start with the user needs and desired outcome (the big picture) and work to find the best way(s) to make that happen by asking the right questions, the first of which is "Is it worth it?".
This approach  brings together what is desirable from the audience's (user, customer, partner, employee, etc.)  point of view with what is viable for the business and technologically feasible. It also means engaging people who aren't trained to design,  but who have to live with the results of the designs, to use creative tools to innovate solutions for a wide range of challenges.
Lockwood lists three primary tenets for design thinking in his introduction:
Develop a deep understanding of the audience based on fieldwork research.

Collaborate with the audience through the formation of multidisciplinary teams.

Accelerate learning through visualization, hands-on experimentalism, and creating quick prototypes, which are made as simple as possible in order to get usable feedback.
However, in our experience designing digital products, we have found that — while excellent for thinking about visual and some interactive issues — current design thinking methodologies leave out how that design fits into the longer term narrative for the audience.  So we add a fourth point:
Follow the rhythm and flow of the audience and how their needs and goals change both in context and over time.
Ok, enough theory, let's talk practical application. To apply the design thinking process, we make use of two main activities: Design Thinking Workshops and Design Sprints.
Design Thinking Workshops
The Design Thinking workshop is used to kick-off the design phase of a project. This is a process of applying human centered design principles, focusing on deconstructing the problem and then reconstructing it for the solution. To be effective, this means embracing a Lean UX philosophy and creating functional prototypes to quickly iterate the best solutions within the time, budget, and technical limitations.
Design Sprints
Design sprints — developed by Google Ventures (gv.com) — have been applied to help companies from start-ups to Fortune 500s to quickly and accurately prototype and test user experience concepts which can then be developed into final working products.
A single sprint is not meant to design an entire site, section, or even page, but instead to examine the user's process and how it can be improved within the system.
Using Design Sprints allows iterative improvements without locking into a set roadmap that might need to change in order to meet shifting conditions and priorities. Instead, we define the goal for that month's design sprint, pulling from a backlog of requests and work to resolve that particular task. As new requests come in, they can be added to the backlog, and then considered for the next sprint, allowing ongoing refinements.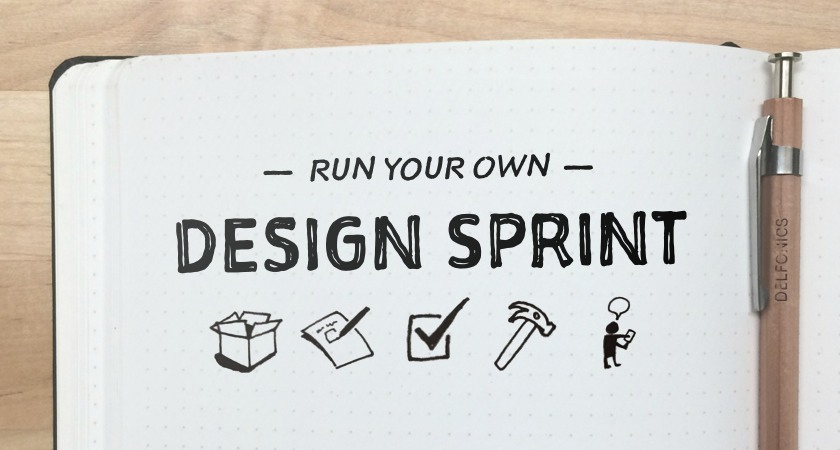 How Design Thinking can Accelerate a Digital Transformation Initiative
The Design Thinking process is a tool that can be applied to any project to address many of the reasons Digital Transformation projects fail.
Audience involvement is integral to developing ideas that are turned into  features. Not only is there regular testing of the product with the people who will be using it, they are also invited in to help brainstorm possible solutions. This ensures that their needs and expected outcomes are met.

Business and tech needs are brought in early. Confirming that the product is both viable from a business standpoint and feasible from a technology  standpoint are constant considerations during the process.

It is an iterative process that can work in close conjunction with an Agile process. Unlike in a waterfall methodology, foundational work on the design is done early, but full design implementations are done in sprints, with feedback from development to constantly refine and improve solutions.
Design thinking is not a magic bullet that can fix everything or prevent all issues from arising. What it does provide, however, is a methodology to better adjust and react to changing priorities and realities during product development. This ensures that whatever challenges you face, you are better able to handle them without derailing the entire project.
Contact Rivet Logic to learn more about how we can help you with your digital transformation initiatives!